10 trends for rings in 2021 you can't miss

[Top Jewelry Trends]  
We're starting the final month of 2020…yes, I know. Time really flies.
If you're a fashionista, probably you are already thinking about 2021 trends. And especially on Jewelry trends. We hope next year you will be able to show your outfits outside in the real world, and not just through face time - fingers crossed!
Jewelry trends are not easy to understand and apply. We pay much more attention to clothes trends than jewelry ones without ever realizing that jewelry accessories are a big part of our outfits. This is especially true if you are not a fashion expert, but great and good placed Jewelry can turn an outfit from basic to amazing.
This year due to COVID, the Fashion industry made their classic Spring Fashion Shows with closed doors. Looks like people still want to dress fashionable, even from their living room or kitchen. 
Spring 2021 Fashion Shows involved brands like Louis Vuitton, Kenzo, Chanel, Altuzarra, Andrew Gn, Balenciaga, Balmain, Elie Saab, Versace, Carolina Herrera Givenchy, Nina Ricci, Schiaparelli, and so on.
Ring Trends To 2021
Colors, pearls, statement, and modern are just some of the ring trends coming in Spring 2021. Jewelry, and especially rings, are here to give our outfits a touch of color, modernity, and glam. Rings are becoming more like protagonists of our looks.
They sum more than what you think to your outfit. Some people are naturally lovers of rings, other people hate using rings, and few others just don't know how to use it. In any case, if you like fashion and like to dress well, don't miss this easily explained trends for rings.
We did a general examination of the runways, especially on jewelry, and made our very own scoop of the 2021 Ring Trends for Spring/Summer 2021. So get inspired, take notes, and…get dressed!
Green Round Amazonite Silver Ring from Jewels Genie 
Color
Color and more color. From colored engagement rings to just rings for a coffee, color trend gains more and more relevance. 
They make an upgrade to your outfit. You can never go wrong with a white plain t-shirt, ripped jeans and colored rings. Make outrageous shade combinations like pink, green, and burgundy all in one piece!
In Jewelry, colors have all kinds of meanings. They create an emotional connection to the design. Purple, for example, leads to spiritual fulfillment, luxury, wisdom; while yellow is related to personal power, optimism, communication… Even if you don't use jewelry for this purpose, it'll fun to match your jewelry with your mood. 
When comes to choosing colors, Pantone has to be your guide. They published the Color Trend Report on the Spring/Summer 2021. Bright & bold, refreshing and illuminating, that's how the colors for 2021 are described. 
Image taken from Pantone, we don't own any of the information displayed on it. 
Also, the World trend authority WGSN's Color of the Year for 2021 is called AI Aqua. It's an electric shade of blue described as emotional and trending-forward. We are expecting a lot of blue shades next year.
So don't be afraid to decorate those fingers with shiny and daring colors. Colors are here to stay and cheer this new year, to uplift our spirits and bring something fresh to our lives!. 
Natural Amethyst Gemstone Silver Ring from JewelsGenie
Gems
Not surprised on this one…gems are just spectacular, they are so colorful and glamorous.
Using gems in jewelry is a practice that humankind has been doing for the eternity. It's believed that Greeks used gemstones back in 1600 BC.
The demand for precious minerals had grown over the  years. But not just emeralds, rubies, and sapphires. It's more and more common to see spinel, tsavorites, topaz, zircons…It doesn't matter if it's a genuine stone or imitation anymore.
You planning on buy gems? Take a look at this post before you buy any gem to make sure what kind of stone you're buying.
Pearlsssss
Pearls had been with us for a while, but this coming year they'll be really on fire. Pearls are elegant and timeless, you can ever go wrong with them. Your granny used them, your mom used them, and now you love 'em.
They are really special, a natural pearl is the only jewel created by a living organism, the rest of the gemstones are mined from earth. They are a symbol. They have been present in history. There's a story of Cleopatra, to impress Marc Antony and show him her power and wealth, she took a pearl from a pair of earring, crush the pearl and dissolved the dust in a cocktail with vinegar, and drank it. 
The famous painting "Girl with a Pearl Earring" by Dutch Golden Age painter Johannes Vermeer it's featuring a pearl, obviously. The Painting is priceless, but to have an idea, the last painting publically sold from Vermeer was for $30M.
So, pearls had always been valuable for society. This upcoming year, don't just stick to the classic rounded pearl on your finger, there are tons of modern, statement models. Now, pearls even come in shapes. Dare to use this new trend.
Statement Rings
AKA cocktail rings. Statement jewelry, especially earrings, were on trend for a while now. But brands are getting more a more daring with statement rings.
Their boldness and uniqueness add a plus to your look, in every color, shape, or style. They tend to be bigger than a regular fashion ring, featuring a big gem.
This trend started back in the 1920s in the US. This decade gave birth to feminism, so women were empowered and used fashion to show rebellion. Girls would use showy dresses and jewelry.
Prohibition Law made alcohol illegal that decade, and it's said that at bars, girls would use big rings in their right hand as a signal for ordering forbidden alcohol drinks. They would raise the hand and make the gem flash to the bartender. That's why it's called cocktail ring.  
For this tradition, women tend to use statement rings on their right hand.
Nowadays, there's no need for you on asking for alcohol with a ring (if you are 21+ of course), but think how could it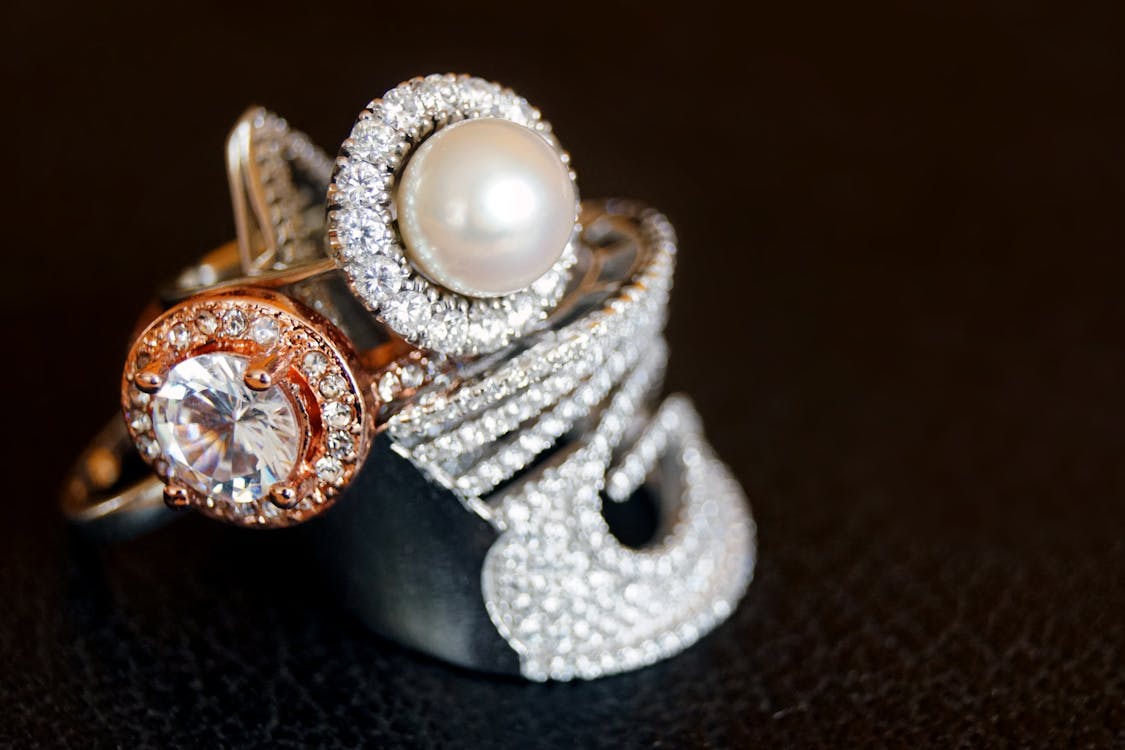 Mismatched Stones & Metal
Mix colors, sizes, forms…more mismatched, more in. This adds a modern touch to your look.
Combine different types and colors of stones. In the bridals word, this kind of ring is called toi et moi, or "you and me" in French. The style originates in the late 17th century and took off with Napoleón Bonaparte. Yeap. He proposed to Joséphine de Beauhrnais with a toi et moi ring, featuring a sapphire and a diamond.
You can mix other more daring colors. Remember this is the bright colors era? Take advantage of it!
And mix not just stones, mix metals too. Yes. As you read. Remember when your mama said, use white or yellow? Not anymore. Including rose gold pieces, which even though they're not so in right now, wouldn't look bad if you mix them. These mixtures accentuate gems and add depth.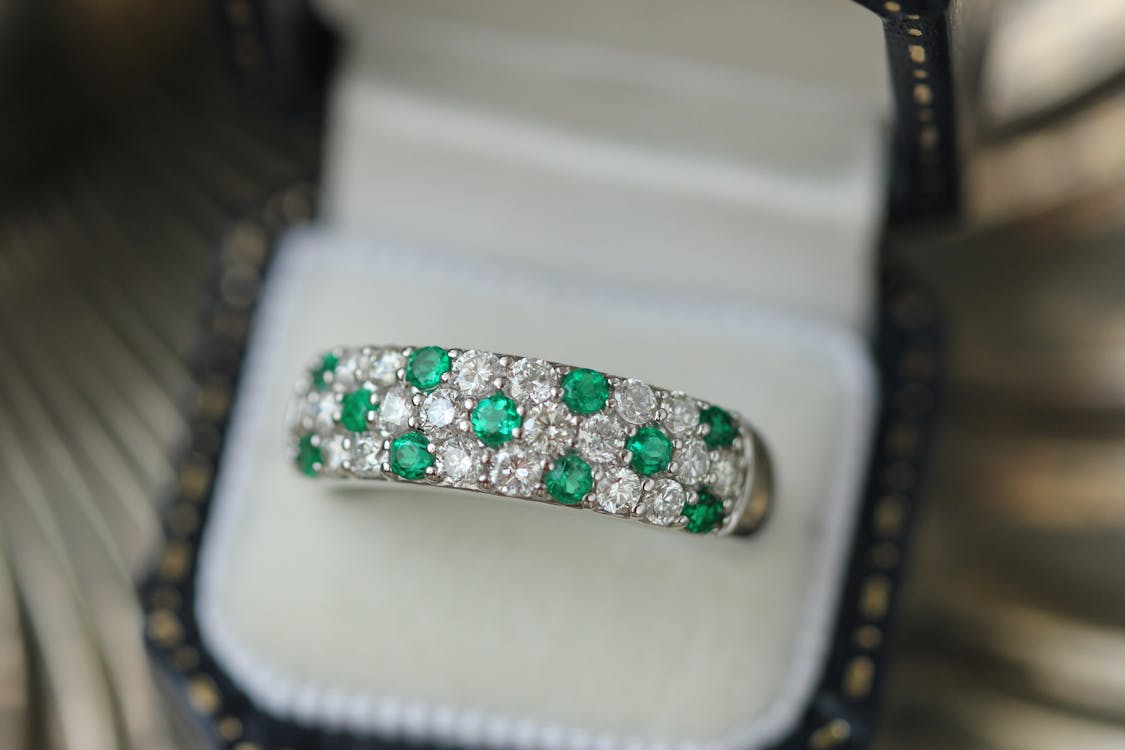 Gypsy Rings 
This retro-style consists in set the stone intro, rather than atop, on the band. The actual technique name is flush-mount setting. These rings are usually more casual and laid-back. 
It's said that the name Gypsy is because back in the early 19th century, these rings were designed to prevent theft from gypsies. Because the placement of the gem is considered that is protected, there is less risk to fall or break, so these rings are highly recommended for someone with an active lifestyle.
Consider that experts say that soft stones aren't appropriated for this technique and can suffer damages on the setting process. 
They are an old design in the industry. Was originated in the Victorian era and was popularized by men. Slow by slow, Victorian ladies started to use them. At that time, these rings were just a rounded, tapered yellow gold band with three equally sized stones, round-cut.
Keep in mind that as the stone is crusted in the metal, it won't help to make the gem bigger and it may even look smaller than it's.
Because the stone is tucked into the band, gypsy rings don't do a lot to help make a small stone seem bigger than it actually is. And since the diamond isn't exposed to light from as many angles, it may not be as brilliant as it could be.
Twist Rope Silver Ring from JewelsGenie
Silver
Usually in the Jewelry word you choose a side: yellow gold or silver person. No in-between. 
After yellow gold has been the metal of choice for years since the last one Silver came to overthrow it. Some part of the society keeps refusing to this trend, but this year will not escape from it. 
Investing in silver gives you a million-dollar look without affecting your budget. It simulates white gold for a fraction of the price, so it'll make you feel really powerful. 
Remember, silver comes in different types and this makes them vary in quality. Silver is just an alloy of two or more elements so the periodic table. To distinguish this, there are quality marks. They are tiny stamps that indicate quality. Silver comes in grades.
Fine silver or .999, it's 99.9% pure, it looks grayer and slightly dull. It's a soft material and will scratch, dent, and change its shape easily.  
Sterling silver or .925, indicates an alloy of 92.5% silver, the rest is usually copper or nickel. Alloy additions make the material more durable and enhance color and luster. Is the type of silver you'll usually find across stores.
Coin silver or .900 is 90% silver and 10% copper. The name comes from metalsmiths historically made items from melted down scrap coin metal, on that time, coins were made from silver.
Silver Plated has a base of metal and an extremely thin plating layer of silver on the surface. These jewels wouldn't have a quality mark.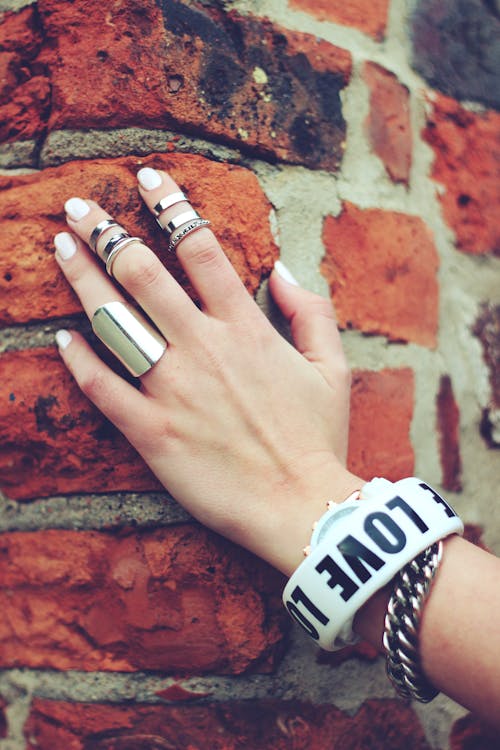 Not just one finger, and layer it up
The use of rings is related to mysticism from the beginning of times. There's supposed that a ring means something depending on the placement (hand and finger)
But leaving beliefs aside, you cannot leave rings anchored to just one finger anymore. Think you have ten opportunities in your hand to let your creativity flow, literally.
Also, do no limit one ring per finger either. Ring stacking or layering consists in wear multiple rings on the same finger. Wifes usually stack engagement, wedding, and anniversary rings on the same finger.
Layering things up is a trend we saw in runaways (including layering necklaces). This could be fun, you can get crazy mixing colors, metals, and sizes (Remember the mismatched stones and metals? Apply it). But don't overdo it. Don't put on every ring you own.
Remember David Rose from Schitt's Creek? He saw this trend coming. If you haven't seen Schitt's Creek (what are you doing? Mariah Carey told you so),  David's part of the Rose family, a wealthy family that loses everything and has to live with it in a Canadian town. David dresses almost always in black, grey or white, and he is really fashionable. 
What characterizes him most, is that he uses 4 big statement silver rings, on one hand, every day (and of course, spoiler alert, the other 4 gold rings when Patrick Brewer proposed to him).  
These rings became so famous you'll see them being sold all over the internet. 
You don't need to specifically buy those rings to accomplish this trend, but just see how 4 big silver rings can work and add personality to your look.  
Wear this trend with confidence. You'll catch some attention, people are likely to notice. Don't play it your rings, leave them alone, they by themselves will speak and say "I'm a fashion and strong woman!" 
The general rule says, wear a couple of rings on multiple fingers, or stack a couple of rings in two or three fingers. It's up to you. 
Even though, rules are meant to break them, right?
Romantic Daisy Silver Ring from JewelsGenie
Only metal
Only metal rings are just that. Rings made with only the metal (despite if it's gold, silver, titanium…)
They are pretty common for wedding alliances. Men also tend to look for this kind of rings because they look "simpler" or not feminine. That couldn't be more a lie.
Just metal rings come even in textures, and they are perfect to match with other rings with gems. They would bring to your hand stability and don't make it over-stock. It's like a relief to the eye.
These rings come in infinite shapes too. As they don't have gems, jewelers use their imagination to create any type of shapes, like arrows, hearts, animals, or just abstract forms.
Stainless Steel Leaf Ring from JewelsGenie
Black
Yes, you read it. Black stones and black metal are coming. The black color is known as elegant, classy, sexy, and sophisticated. And it's not quite usual in jewelry. 
In the past, black jewelry was associates with Goth's appearance or mourning jewelry. People at forums says that when you are wearing a black ring on any finger, except the middle one, it's a message for others that you are a swinger or poly (potentially approachable to sexual advances). And when you use it in the middle finger, means you are asexual, not approachable for sexual advances. 
With that said, our opinion is that rings are just part of fashion, and if you feel like you want to use a black ring on your middle finger and you're not asexual, you shouldn't stop doing what you want. No one has anything to comment on you using a ring on a specific finger, and if they do, is up to you how to take it. 
Black gemstones are considered gender-neutral choices, modern and stylish, and they can be paired with gold, rose gold or silver, and still look great.  
What gemstones are black? Well, Onyx is the traditional one. Is really rare to find in nature solid and completely black, has very good wearability, and is fairly tough. Today is inexpensive and consider a minor gemstone.
But in addition to Onyx, there are a lot of black gemstones, like black pearls, sapphires, diamonds, obsidian, spinel, zircon, tourmaline, jet, garnet, jade and much others.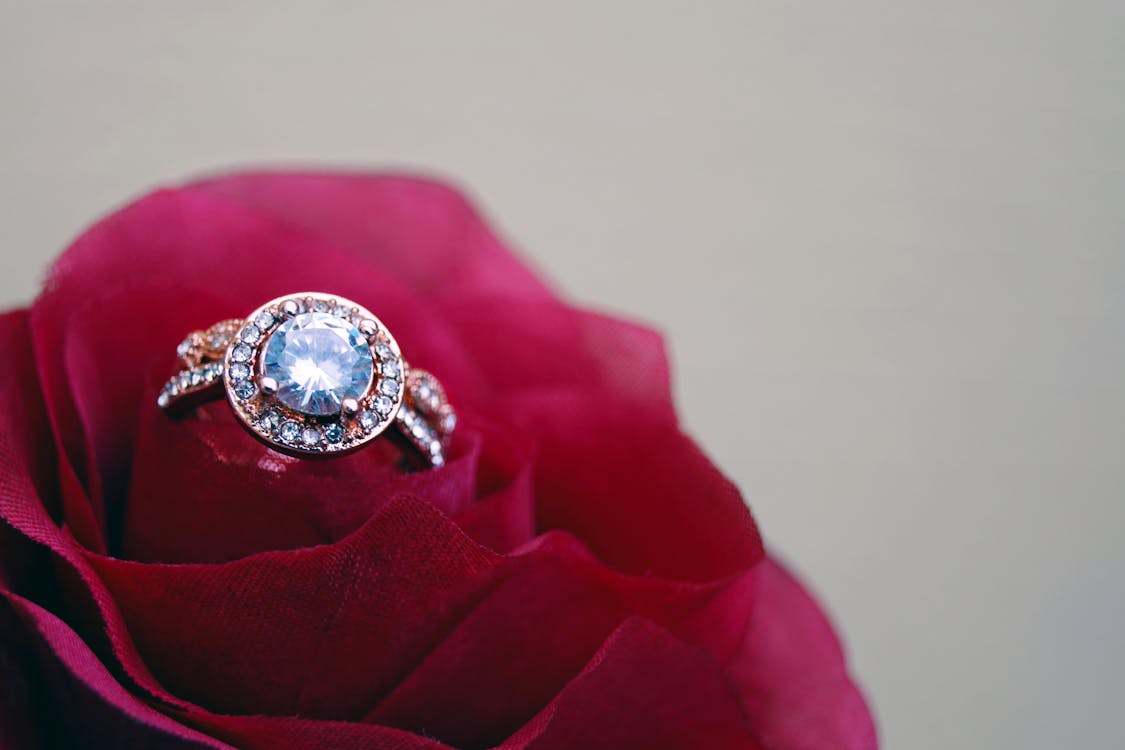 After our examination, we can make some conclusions. First is to understand trends don't exclude one another, on the contrary, they complement. Mix colors, sizes, materials. Mix genuine gems with imitations, diamonds with just metal rings, and statements with Gypsy. Like David Rose from Schitt's Creek, he mixes the silver, all metal, statement and multiple fingers trend. It doesn't matter, as long as you feel comfortable with what you are wearing and feel good, you'll look amazing.
This year is the opportunity to get daring, get bold. Don't be afraid of using bight and different colors.
If it's not easy for you to follow these trends and you still want to look amazing, get inspiration online, look for the runaways on Youtube, search on Pinterest. Just type the name of the trends.  
Also, invest a little bit in Jewelry, after this year, you deserve it!  
---